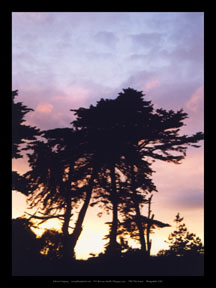 Item #: A06
Price: $4.50



Title: Tree Sunset
Artist: J. D. J.
Media Type: CMYK lithograph
Size: 18 inches x 24 inches ( 45.7 cm x 61 cm)

Tree sunset is one of the more recent photographs, it was taken in the year 2000. This photo is not only one of the simplest technically, but it is one of the most popular. The background shows a nice graduation of hues from the yellow sun to the blue sky, overpowering the trees in the foreground. Although the tree silhouette is in the center of the picture, it is clear that the subject is the colorful background. The pastel background, with it's cotton-like clouds looks more like a painting than a photograph. The most curious part of this picture is not the picture, but where it was taken. The natural look of the trees and bushes hide the fact that they are behind a department store. I guess it is true that beauty is in the eye of the beholder.