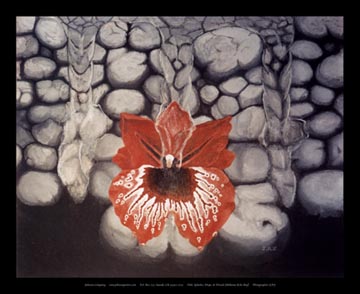 Item #: A0A
Price: $6.00



Title: Splashes, Drops, & Drizzle (Miltonia Echo Bay)
Artist: J. D. J.
Media Type: CMYK lithograph
Size: 22 inches x 18 inches ( 55.9 cm x 45.7 cm)

The painting was originally done in 1994, while the photo was taken in 2002 using a mix of artificial and natural light. Several shots were taken to try to capture the depth (Metaphorically & Physically) of the original painting. Like many of his paintings, this one was done in layers. The background is painted first, then the body of the subject, then the edges are defined, and then the characteristic details are added. This technique is what gives it depth--along with some other tricks not mentioned. Unlike a traditional surreal style, this image/painting uses the flowers real traits with a realistic environment to make a surreal situation. For example, you can see the watery background's characteristics of reflection, defraction, and shadow blending into the pedal's natural splash-like pattern. Strangely, the running water and the splashes playing on the rocks and pedal are reminiscent of childhood water streams. In fact, you can almost hear them.