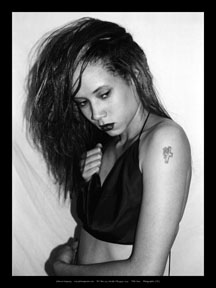 Item #: A04
Price: $5.00



Title: Sara
Artist: J. D. J.
Media Type: Black & White lithograph
Size: 18 inches x 24 inches ( 45.7 cm x 61 cm)

Sara is a model from Canada and the younger sister of Model Cedric Johnson. She and her younger brothers have modeled cloths at various Canadian fashion shows over the years, but this is the first U.S. appearance. This photograph was a result of an arranged photo-shoot in 1998, during a visit with her U.S. relatives. Her shoulder bares the weighted tattoo of a cross and rose. She slightly glances back while holding herself both showing innocence and mystery. She neither looks to the light behind her or to her shadow growing in front of her. This picture shows a silent emotion while you ponder the events leading to this moment and wonder what happened after. The background gives no hint of her past or future, it only tells you that the moment is now.