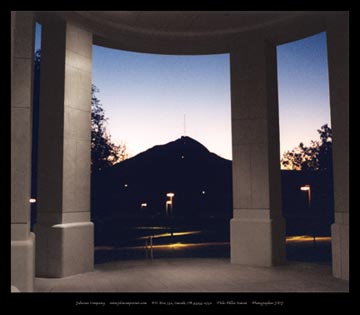 Item #: A03
Price: $5.00



Title: Pillar Sunset
Artist: J. D. J.
Media Type: CMYK lithograph
Size: 16 inches x 14 inches ( 40.6 cm x 35.6 cm)

This sunset poster was originally a test shot, where J. D. J. tried to use environmental lighting to his advantage. Pillar Sunset contains numerous light sources, many facing opposite directions. The pillars themselves have individual lights pointing to each one, and a flash that illuminates all of them together. The floating lights in the background vaguely reveal a winding path starting at the steps of the pillars. While the mountain blocks the direct sunlight that would normally drown-out the foreground lights. If you look close, you can see a tower on the top of the mountain. This picture compares the rigid pillars in the foreground with the random and organic background, giving a feeling of confinement with freedom right in front of you. The trees add to this as they peek through the pillars curiously looking in on the captive behind the cold bars.