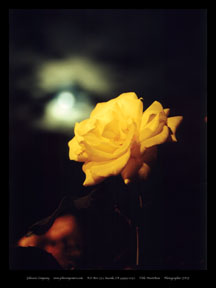 Item #: A09
Price: $4.00



Title: MoonRose
Artist: J. D. J.
Media Type: CMYK lithograph
Size: 12 inches x 16 inches ( 30.5 cm x 40.6 cm)

Continuing with a night theme, this photo was one of several lighting tests using a large aperture and slow shutter speed. These conditions allowed the moon to burst through the background clouds, while the lighting on the rose was manipulated. The primary light source was a street light, which would keep the rose from closing at night. A pocket flash light was then used to fill the shadows left by the street light. Both of these poor light sources actually exaggerated the yellow color of the rose, giving it a strong but moody feel. Of course, the cloud filtered moon adds to this effect. The rose itself stands alone, turned away from the moon, but slightly glancing back. While the moon watches it like an eye, seemingly giving the rose its light, but at the same time being denied the chance to look at it.