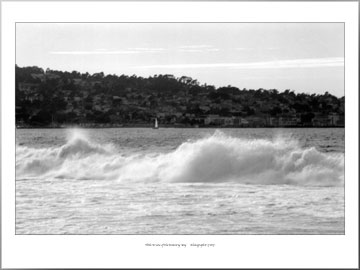 Item #: C04
Price: $12.50



Title: A view of the Monterey Bay
Artist: J. D. J.
Media Type: Black & white Digital Print
Size: 24 inches x 18 inches ( 61 cm x 45.7 cm)

This view of the Monterey Bay was taken for this this website, as another possible Landscape poster. It was voted as a worthy photograph by 88% of the Voters on the "New" posters page. This image has a simple horizontal composition, that is literally split across the center. The gentle downward roll of the trees and buildings in the background are evenly matched by the sky. Together, they form a nice long rectangle, bound by the coast line and a lone sailboat. In contrast, the lower rectangle is chaotically torn by a front of crashing waves. These waves shake up what would normally be a placid bay and seem to be jumping out towards the viewer with the violence of a 3D movie. It almost seems to be suggesting that the bay looks calm on the surface, but it has a wild side underneath.