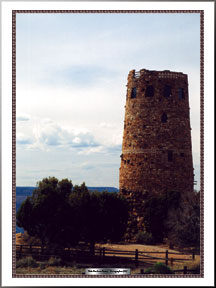 Item #: C09
Price: $16.50



Title: The Lone Tower
Artist: J. D. J.
Media Type: Digital Print
Size: 18 inches x 24 inches ( 45.7 cm x 61 cm)

The Lone Tower is another photograph taken in Arizona. The actual name of this structure is the Watch Tower, and it is located in the south eastern part of the Grand Canyon National Park. At an altitude of 7438 ft. it over looks the Desert View area, and most of the south-east part of the park for that matter. The vast view from the tower's windows is similar to that of an aircraft as you look at the Granite Gorge below. In this photo you can see how the tower almost looks down on the clouds in the sky, and even the distant mountains can only reach its feet. The aged trees look like shrubs clinging to its base. The weathered stone walls show its age, but it still stands--looking into the distance. A closer look reveals that the crown seems to have crumpled over the years, but it still holds on to the few pieces it has left. This is indeed a lonely tower.