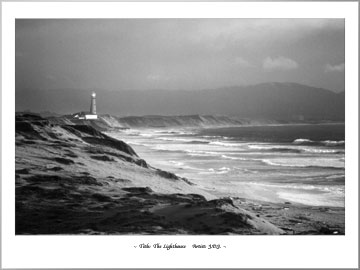 Item #: C0A
Price: $14.00



Title: The Lighthouse
Artist: J. D. J.
Media Type: Black & white Digital Print
Size: 24 inches x 18 inches ( 61 cm x 45.7 cm)

This image is not exactly what it seems to be. After taking this photo, along with several others, the artist decided that this was a great shot to experiment with. The original picture had important elements, like the way the turbulent waves rolled and crashed as they marched to the mound enforced beach. Then there was the hazy sky, showing the shadowy mountains and clouds as they seemingly guide the ocean to the beach. The whole time the strong beach cliffs and mounds are holding back this watery invasion, while a darkness lingers over it. All these pieces were working to make a great image, but something was missing. This battle of the elements needed a focus. So, with the use of a pencil and paper, the lighthouse was added to balance this war.