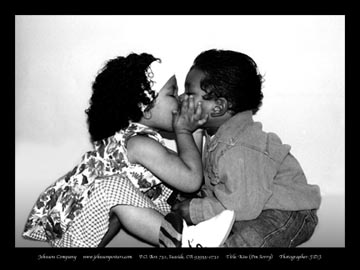 Item #: A0C
Price: $4.50



Title: Kiss (I'm Sorry)
Artist: J. D. J.
Media Type: Black & White lithograph
Size: 12 inches x 9 inches ( 30.5 cm x 22.9 cm)

Taken in 1994, this photograph captures the innocence of childhood rivalries. For the children this photograph was just an apology for fighting. Actually, just moments before this picture was taken the girl hit the boy on the head and made him cry. Of course, shortly after the cry was heard, the girl was instructed to say she was sorry and to give him a kiss. But the unexpected force of her "apologetic" kiss immediately called for a quick click. As you can expect, for the photographer, this photograph is a reminder that "It pays to carry around your camera." And although the technical conditions of the original photo were not the best, the situation demanded to be captured. For us, this photo can be a reminder of our past innocence--things we could of, should of, would of, or did do.