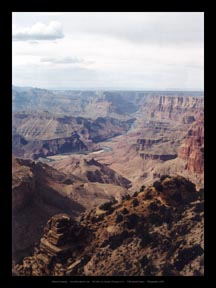 Item #: A10
Price: $6.50



Title: Grand Canyon
Artist: J. D. J.
Media Type: CMYK lithograph
Size: 18 inches x 24 inches ( 45.7 cm x 61 cm)

This photo, of a visit to Arizona, was taken during the summer of 2002. Even at first glance the use of the word Grand would be an understatement. The vast void in the center only gives a hint of the actual size of the valley below. A detailed inspection of the mountain in the foreground shows that those little bushes are actually trees. Now, if you pan side to side to the top, you will notice that the hill is just a part of a ledge and the ledge extends all the way to the valley. Now add the fact that there are probably thousands of people in the picture, but they are so small that you feel like you are all alone. And if that does not describe the grand size of this canyon, imagine an image so big that the photographer could not fit it all in--even with his widest lens. (The photographer was standing on the right ledge of the canyon facing to the right, cropping off most of the center & left side of the canyon.) Just picture it, the expansive landscape in this poster is only a piece of a larger view.