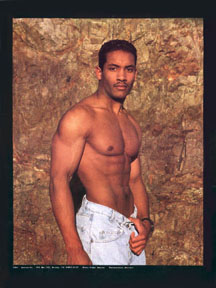 Item #: A01
Price: $4.00



Title: Cedric Johnson
Artist: J. D. J.
Size: 18 inches x 24 inches ( 45.7 cm x 61 cm)

This is the original poster that started Johnson Co. in 1994. The photograph was taken at one of the local beaches in Monterey County, using direct natural sunlight. The wall in background is actually a very large rock formed by the cutting sea water. Cedric himself chose the beach and the pose for the poster, taking advantage of the rock color and the sunset's lighting effects. Looking at it from a distance you can see the rock's characteristics blending with Cedric's skin. Almost immediately, you can feel the strength of the rock passing itself to the model. Of course, his physical and facial appearance also contribute to the overall effect. With just a glimpse at the pose you would not have a problem accepting the idea that he later modeled underwear.