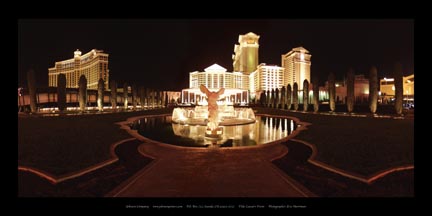 Title: Caesar's Front
Artist: Eric Merriman
Media Type: CMYK lithograph
Item #: A11
Price: $5.00



Size: 24 inches x 12 inches ( 61 cm x 30.5 cm)

This panoramic photograph of the Front of Caesar's Palace is actually several smaller photos stitched together. In fact, this image took about five minutes just to shoot, but I would say it was well worth it. Immediately, the heavenly glow of the angle catches your eye, while the front of the building gives off a gated feel. The symmetry of the walkway and trees makes it seem like the angle is in front of you guiding your way. Meanwhile, the buildings in back are looking over the barriers at you. Even the statues at the entrance seem to be conversing while they wait for the new arrival. In a strange twist, it turns out that this tranquil scene was actually an adventure for the photographer. During the shoot several people wanted to be in it, including a drunk guy who danced in front of the camera ruining an exposure.
Note: Clicking on the poster image above or the price link will add the poster to your order, while the artist link will send you to the artist's details. If you do not have a user account, please go to the Purchase page before clicking the price link or image.

Copyright © 2002-2011 Johnson Company