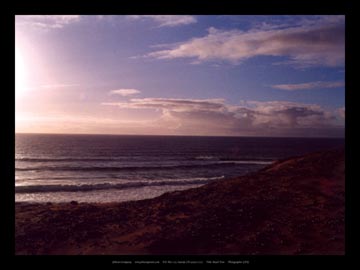 Item #: A0F
Price: $6.00



Title: Beach View
Artist: J. D. J.
Media Type: CMYK lithograph
Size: 24 inches x 18 inches ( 61 cm x 45.7 cm)

This photograph was taken in 2002 just for this this website, as a possible Landscape poster. Eventually, it was voted as a worthy photograph by 86% of the Voters on the "New" posters page. Strangely, this photo goes against traditional color balancing techniques by having the sunset on the left, but uses this to focus on the surroundings. Thus, you are allowed to see the clouds and the sea gently being pushed away by the mighty sun, even as the day ends. The wave ripples and the soft roll of the sand adds to the relaxed mood of the photo. Even the clouds are in no hurry to get to where they are going as shown by their fluffy trails in the sky. In the foreground you can see the beach vegetation sitting there watching the sunset--talk about relaxed! This is the kind of attitude one would expect from a local (Monterey) beach.