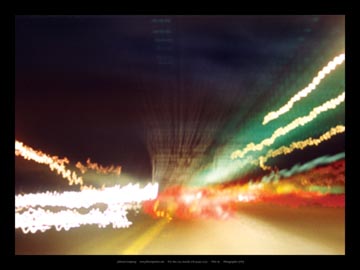 Item #: A02
Price: $5.00



Title: 85
Artist: J. D. J.
Media Type: CMYK lithograph
Size: 24 inches x 18 inches ( 61 cm x 45.7 cm)

85 was a photograph taken in the year 2000, on Highway 85, using a slow shutter speed. On the left you can see the headlights of on-coming traffic. The red streaks on the right were the tail-lights of the other drivers. The blurs on the bottom come from the street and lane lines, while the blur emerging from the center comes from a street sign. The various pale-green streaks, stretching to the corners, are street lights passing by. If you look close, you can see the clouds and the dark blue sky above. This picture can often excite the imagination, while you try to identify the source of each one of the vivid colors. The shapes may seem familiar and distant, but all of them point to what is in front of you.